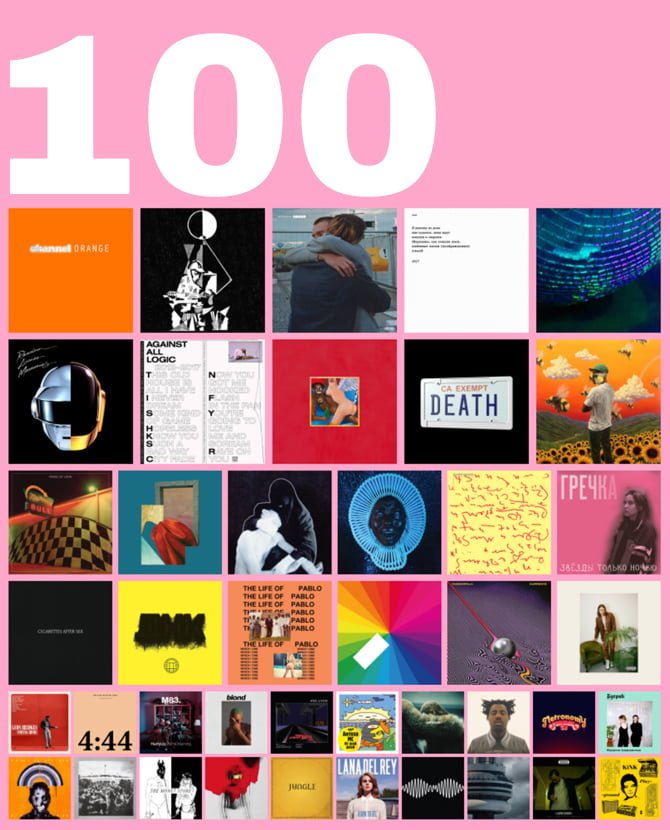 Vrlo brzo će se desiti ozbiljna promena jer prvi put za 10 godina, ova Nova godina označava promenu dekade. Godine sa predbrojem jedan su bile izuzetno intenzivne, i čini se kao da se sve desilo u njima: političke krize, intervencije, SpaceX lansiranje, mnogo protesta, Greta Thunberg, borba za prava žena, #MeToo pokret, bezbroj novih aplikacija… Svi ovi beskonačni događaji su uobličili eru iza nas, deceniju koju ćemo nekada verovatno zvati "desete" iako sada prečudno zvuči.
U to ime rešili smo da rekapituliramo šta su "desete" godine XXI veka značile za muziku. Zanimljivo, ove godine su postale tranzicija, prelaz između "teškog luksuza" ka indie zvuku i konceptu. Promena u stavu, konceptu i perspektivi je užasno primetna, i u ovoj decenije je postalo "moderno" biti underground, konceptualan i imati neku svoju višu ideologiju. To čak može da se primeti i kod glasno deklarisanih zvezda. Kanye West je dekadu započeo sa "Watch The Throne" i "My Beautiful Dark Twisted Fantasy" – kvalitetni, interesantni i važni albumi. Ali konceptualno, klasičan arogantni, hvalisavi hip hop o sebi, svojim uspesima i bogatstvu. Poslednji Kanyeov album je kratak i ima samo sedam pesama. Snimljen je sa karakterističnim prizvukom undergrounda: eksperimentisanje sa zvukom, analiza klasične strukture, istraživanje psiholoških i socioloških problema u tekstu, u najnovijem okretanje Bogu itd. Svakako, i jednostavna pop muzika je još uvek baš to pop(ularna) ali konceptualizam i u zvuku i u rečima je definitivno postao sve prisutniji.
Zato, u želji da malo posložimo šta se to stvarno veliko dogodilo odabrali smo 100 naših omiljenih albuma iz decenije 2010. do 2020. Sve popisano je u haotičnom redosledu, i rezultat je naše višesatne rasprave. Neki su bitni jer su potpuno promenili svoj zvuk, neki jer su aposolutno novi i sveži, a na neke smo lično slabi pa nisu mogli da izostanu.